Ice cream truck business is very lucrative and fun. Considerations are startup capital, a truck, equipment and operational license. Different formats of the business are truck, kart, stand or shop.
How to Start Ice Cream Truck Business
The first step is to write ice cream truck business plan. Then secure startup funds and purchase equipment. Buy the truck, plan the route and obtain necessary licensing.
Get a driving license, vehicle particulars and vehicle insurance. Try to plan inventory, select vendor and comply with health and safety provisions.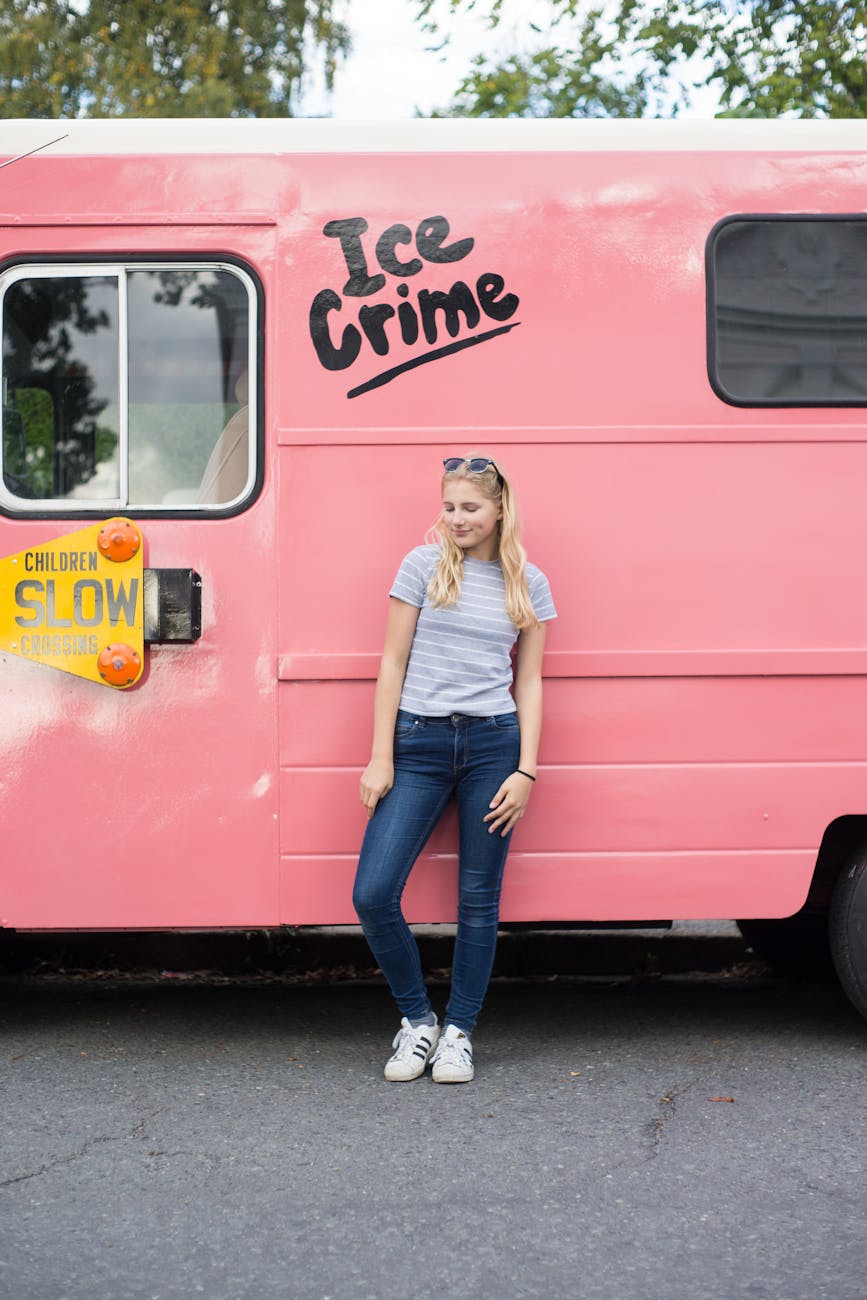 Stps to Start Ice Cream Truck Business
write ice cream truck business plan
secure startup funds
purchase equipment
buy the truck
plan the route
obtain necessary licensing and permit
get a driving license
vehicle particulars
vehicle insurance
plan your inventory
select vendor
comply with health and safety provisions
Funding
The business requires adequate funding to purchase or lease a truck, buy equipment. Others are legal fees, insurance, driving license, inventory. Secure funds through target saving or borrow from friends and family. Other ways are through bank loans, cooperatives, venture capitalist.
target saving
borrow from friends and family
bank loans
cooperatives
venture capitalist
Ice Cream Truck Equipment
There are a few equipment to consider such as a hand sanitizer, soft serve making machine, portable electric cart, cotton candy machine and flat pan. Others are freezer, shaved Ice, shake machine and stone cone machine.
More includes roll hot dog maker, popcorn maker and coffee maker. Make sure the coffee maker is durable has good thermostat regulator and brews fast. Others are toaster oven, different warmers, bun fryer, and food steamer. Use cold plate freezer to keep ice cream frozen for 8 hours even unplugged.
Equipment
Hand sanitizer
Soft serve making machine
Portable electric cart
Cotton candy machine
Flat pan
Freezer
Cold plate freezer
Shaved Ice
Shake machine
Stone Cone machine
Hot dog maker
Popcorn maker
Coffee maker.
Toaster oven
Different warmers
Bun fryer
Food steamer
Ice Cream Truck Treats
The truck owner needs a good menu of treats. Popular treats are Orange Creamsicle, Lemon Ice, Drumstick, Snow Cone, Fudgsicle and Chocolate Chip Cookies. Others are Sandwich Firecracker, Malt cup, Push-up Pop, Ice Cream Sandwich, Choco Taco, Strawberry Shortcake Bar.
Orange Creamsicle
Lemon Ice
Drumstick
Snow Cone
Fudgsicle
Chocolate Chip Cookies
Sandwich Firecracker
Malt cup
Push-up Pop
Ice Cream Sandwich
Choco Taco
Strawberry Shortcake Bar
Licensing
Licensing depends on your business plan and strategy. A brick and motor ice cream parlor requires business name, registration, permits. To run an ice cream truck find out local and state laws guiding the business.
Permits include food handler's permit, vendor permit and insurance. You need a business license irrespective of running an ice cream stand, cart or truck. Some states have vending laws on areas you are permitted to sell your product.
You need a driving license, vehicle particulars and vehicle insurance. The vehicle should have a commercial plate number.
Ice Cream Truck License
business name
business registration
food handler's permit
vendor permit and insurance
driving license
vehicle particulars
vehicle insurance
Purchase the Truck
A truck affords wider reach easy accessibility to customer base. You can lease a truck, buy a new or used truck. Lease from a reputable distributor or buy a used truck.
The choice of truck should be large enough to accommodate your equipment and ingredients. Make sure the truck is maneuverable and fuel efficient preferably diesel.
Ways to Get Truck
Lease a Truck
Purchase New Truck
Purchase Used Truck
Income
An ice cream truck manger makes from $20,000 to $30,000 gross revenue annually. The operator takes home 35% of daily sales after expenditure on gas, labor and rental fees.
Advertisement
Use signage to draw customers to the food truck. Other gimmicks include having a distinctive sound to attar children of the trucks presence. Use flyers, posters, vehicle advertisement wrap to attract patronage.to increase profit add edibles like biscuits, cakes, small snacks. Drive the truck to locations with lots of children like schools.
Bonus Article on Same Subject
How to Start Ice Cream Parlor
Food related business is more challenging than retail. This is because food is perishable and has expiration time. Things you need to start the business is a plan, location, operational permit, and food handler's license. Others are equipment, company registration and insurance cover.
Steps to Start Ice Cream Parlor.
Write a plan
Get Funded
Lease a shop
Purchase equipment
Register the business
Obtain permit and license
Plan inventory
Advertise
Type of ice cream
Determine the type of ice cream to make. You have traditional ice cream shops, organic, artisanal. Types of ice cream are snow cones, fudgsicle, lemon ice, orange creamsicle. Others are strawberry ice cream, ice cream sandwich, and drumstick. More include sandwich firecracker, malt cup, Choco taco, push-up pop.
snow cones
fudgsicle
lemon ice
orange creamsicle
strawberry ice cream
ice cream sandwich
drumstick
sandwich firecracker
malt cup
Choco taco
push-up pop
Things to consider
Things to consider are branding, promotion and business plan. Offer customers brand experience, quality product, location, target customers.
Startup cost
Startup costs depends on the business format. You can start from scratch, join a franchise or try partnership. If you buy into an existing shop it can cost from $35,000 to $60,000. Joining a franchise is infinitely costlier than starting from scratch, a franchise can cost from $250,000 to $400,000.
Ice Cream Parlor Supplies and Equipment
Type of equipment you need depends on the type of ice cream you make. Common equipment are Stone cone equipment, dry toppings dispenser, batch freezers, soft-serve machine and dipper well station. More include glass storage containers, ice cream scoops, napkin dispenser, waffle bakers, refrigerated topping holders, dish washers and blenders.
Supplies and Equipment
Stone cone equipment
dry toppings dispenser
batch freezers
soft-serve machine
dipper well station
glass storage containers
ice cream scoops
napkin dispenser
waffle bakers
refrigerated topping holders
dish washers
blenders
License
Register the ice cream parlor as a limited liability company. get liability insurance, tax identification number. You need vendor permit, food handlers
Marketing
You need a solid branding strategy to reach potential customers. Print flyers, banners, poster, business cards and signboard. Use word of mouth, social media, blogging or website to spread the word. Increase income by adding edibles that complement ice cream.
How to Advertise Ice Cream Parlor
flyers
banners
poster
business cards
signboard
use word of mouth
social media
blogging
website
Where to Sell Ice Cream
Sell them in stores, karts, street, shopping centers and schools.
Profit margin
Average profit margin depends on the amount of material used in the production. Costs variables are based on cost of production, portions or serving. More variables are kind of ice cream, cost of ingredients, sale price. If you keep costs down and produce high market ice cream you will make more profit. An average profit made by ice cream parlor is 40%.
Staff
The staff requirements depends on the business template. Hire a receptionist, server, desert chef, cleaner, manager, accountant or bookkeeper.